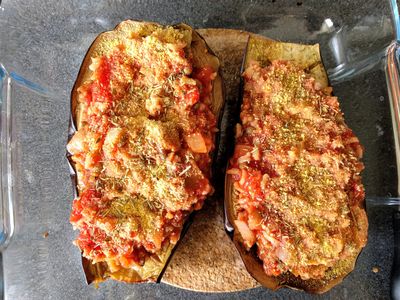 What to do when you received a big, fat aubergine in your weekly box? The first option will be to stuff it with ready-made meat stuffing but this could be quite heavy for dinner. So this week, I am sharing the recipe of aubergine stuffed with vegetable, rice, and lentils for a healthy and balanced dinner. Easy and so delicious!!
SERVE:

 

PREPARATION:

 20 minutes

COOK:

 45 minutes

DIFFICULTY:

 
What do you need?
1 large aubergine (eggplant)
1 plum tomato can or 5 fresh plum tomatoes
100 g of wholegrain rice and lentils (already cooked) – it can be some leftover from a previous meal such as Steamed carrots with soya sauce served on wholegrain rice and lentils
1 onion
Seasoning such as salt, pepper or harissa for spicing it up
2 to 3 tablespoons of olive oil
Some breadcrumbs
How to make Vegetarian stuffed aubergine?
Start by pre-heating the oven at 200°C
Wash carefully the aubergine and slice it in 2 parts
On each half of the eggplant, use a knife for carving some small square pieces

This step will help the cooking and then it will be easiest to remove the inside of the eggplant for adding it to the stuffing
Add a little bit of olive oil in an oven tray, add then the 2 halves of the aubergine with 2 tablespoons of olive oil
Put it in the oven for 30 minutes

The aubergine is ready to be used when it is slightly brown on top and it is easy to remove the inside
In the meantime, peel and chop the onion
In a pan, at medium heat with 1 tablespoon of olive oil, cook the chopped onion while stirring for 5 minutes
Then add the plum tomatoes
Add rice and lentils and seasoning
Leave it to be cooked for 5 minutes
Remove the cooked aubergine from the oven and try to remove the inside of the aubergine while keeping carefully the skin

It is easier to be done with a teaspoon
Add the aubergine bits to the mix done in the pan, cook it for an extra 2 to 3 minutes
Then stuff the aubergine
Add some breadcrumbs on top

Some cheddar can be added for having a cheesy option
And put them back in the oven for 15 minutes at 180°C
More recipe to try and enjoy: