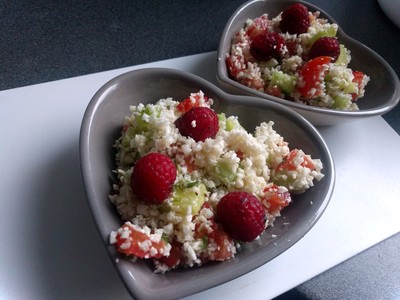 Last weekend was a bank holiday weekend in UK and that is always great to have 3 days for rest. On Monday, I was invited to the barbecue, we were lucky to have a really nice weather, not too warm and no rain at all. For this barbecue, I set my mind on a tabbouleh as it is usually a good match with a barbecue but I wanted to add a twist to it, so I decided to replace the couscous seeds with some finely chopped cauliflower.
Cauliflower is not something that I like but last time when I was attending one of my best friend wedding, there were some cauliflower florets to use as dips, and I found out that uncooked cauliflower was more my cup of tea rather than the cooked one.
For adding even more flavour and colour, I decided to add some raspberry on top of it.
The recipe was really delicious, vegan, vegetarian and gluten free.
SERVE:

 

PREPARATION:

 10 minutes

COOK:

 0 minute

DIFFICULTY:

 
What do you need?
Half a fresh cauliflower, the florets needs to be really white
3 large tomatoes
½ cucumber
Some raspberry (that is optional)
Lemon juice
Salt
Pepper
2 to 3 tablespoon of Olive oil
Some fresh aromatic herbs such as parsley or basil
How to make a cauliflower tabbouleh?
Start by removing all of the florets from the cauliflower head and wash them carefully
Dry the floret before putting all of them in a food processor for chopping finely the cauliflower florets

 The length of the chopping will depend on how fine you would like to have the floret. For myself, I like to have them as fine as couscous seed
Wash tomatoes and cut them in square pieces
Peel the cucumber and cut it in square pieces
Remove the cauliflower florets from the food processor
Mix together chopped cauliflower with tomatoes and cucumber and add the juice of one lemon

 The lemon juice will help to soften a little bit the cauliflower and make it easier to digest
Add then the olive oil, salt, pepper and mix again
Add freshly chopped aromatic herb
Add on top fresh raspberry
Serve it really chilled
More recipe to try and enjoy: