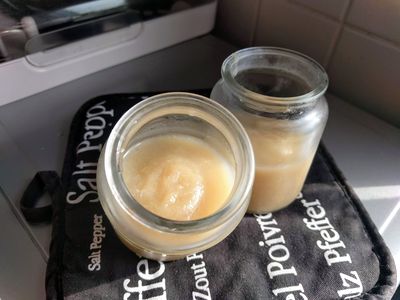 I like making compote as it is an easy way to eat various fruits. As it can be eaten cold and warm, it is pretty convenient as a healthy treat.
SERVE:

 

PREPARATION:

 15 minutes

COOK:

 20 minutes

DIFFICULTY:

 
What do you need?
2 medium-size pears
1 apple
2 sticks of rhubarb
1 banana
50 ml of lemon juice
7g of vanilla sugar (optional)
How to make a Pears, apple and rhubarb purée?
Start by peeling all the fruits
Be careful when peeling the rhubarb to remove all the skin layer
Core the pears and the apple and put them into cubes
Put into cube the rhubarb sticks
Slice the banana
Put all the fruits in a pan
Cook while stirring all the fruits with the lemon juice and the sugar for 20 minutes at medium heat
Then mix all the fruits for obtaining a smooth purée

It can be eaten warm or cold

It can be stored a couple of days into the fridge in small glass jar
More recipe to try and enjoy: