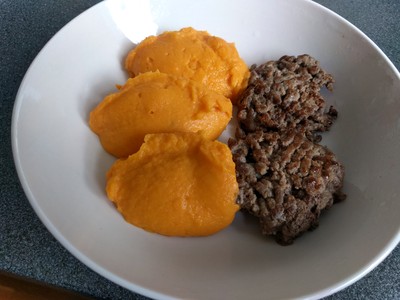 A couple of weeks ago, I received a postcard in my mailbox for advising a company that could deliver organic and locally sourced vegetables and fruits. I like this kind of service but I have been disappointed by a couple of them due to the lack of freshness of the box content (it is true that my last experiences were done via a supermarket). I decided to give a try to this new one; I opted for a collection point, so I don't need to be home for receiving the box.
Last Saturday, I went to collect the box and the freshness of the vegetable was really great. It was a small box and straight away I had a couple of ideas on how to cook the content.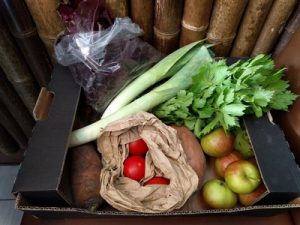 The first recipe done with the vegetable was an organic sweet potato and carrot mash. As the cold days are coming back quickly, a smooth and warm mash is a nice to have for lunch. For going back to childhood, I decided to cook some beef mince for matching the mash.
SERVE:

 

PREPARATION:

 15 minutes

COOK:

 35 minute

DIFFICULTY:

 
What do you need?
1 large sweet potato or 2 medium size one
2 to 4 carrots
2 potatoes
15 cl of soya single cream
Salt
Pepper
Vegetable stock (1 litre of vegetable stock)
How to make some carrots and sweet potatoes mash?
Peel the carrots and make some square pieces of it

Make sure to not have too big pieces of carrots as the carrots are pretty long to be cooked
Peel the sweet potatoes and the potatoes and put them in square pieces
Steam the carrots for 20 minutes; use a vegetable stock in the water for giving some flavours to the carrots

I used the Moulinex Companion for cooking the carrots; using the "steam program" for 20 minutes at 100°C. On the bowl, I put 1 litre of boiling water with one vegetable stock
After 20 minutes, add, in the steamer basket, both the sweet potatoes and the potatoes and steam them for 15 minutes
Once the vegetables are cooked, mash together all the vegetables with salt, pepper and soya single cream

Depends on the texture that you would like your mash, you add more cream if you would like to have a more liquidly one and less cream if you want to have a thicker one

I used again the Moulinex Companion for making the mash. I threw away the water that was used for cooking, and then I use the knife accessory, put all the cooked vegetables, salt, pepper and cream and mix it vit. 12 for 1 minute. I mix again if necessary until having a really smooth mash
This recipe is nice to be served with fish, meat

In the picture, I serve it with minced beef. I bought mince beef and then shape the small steak with a round cookie cutter.
More recipe to try and enjoy: