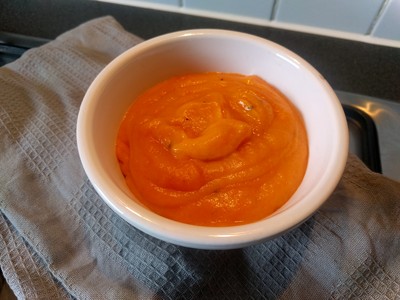 Sometimes, when I am stressed or exhausted I like to eat comfort food, like most of us, but I don't want to drop the healthy part on that craving, it is why doing handmade comfort food is the trick. So for this week, I prepared some mashed carrots to be served with a slice of ham, yes I said comfort food but do you prefer kid food?
I love to eat carrots but sometimes I am too lazy to cook them as it usually requires longer steaming time than potatoes or green beans, but this week a lunch box with a slice of ham and mashed carrots was so attractive that never mind the time to prepare… and anyway, 30 minutes of steamer is quite good for taking a nice and warm relaxing bath, isn't it?
SERVE:

 

PREPARATION:

 40 minutes (including 30 minutes of steaming)

COOK:

 30 minutes

DIFFICULTY:

 
What do you need?
400 g carrots
2 small potatoes
2 tablespoon of soya cream
Salt
Pepper
Rosemary or vegetables stock for adding to the cooking water
How to do a healthy mashed carrots?
Peel and cut in square pieces both potatoes and carrots
In the water for the steamer, add rosemary/vegetable stock that will flavour the carrots and potatoes
Steam the vegetable for 30 minutes
Put all the cooked vegetables in your food processor or blender with salt, pepper and the soya cream and mix it until you achieve the texture that you like

 I like really smooth mash, so usually, I am mixing it full power for 1 minute and then use a spoon for putting back in the bowl the pieces of vegetable which have escape from the first mix, I could do that a couple of time before having a silky textured mash
More recipe to try and enjoy: