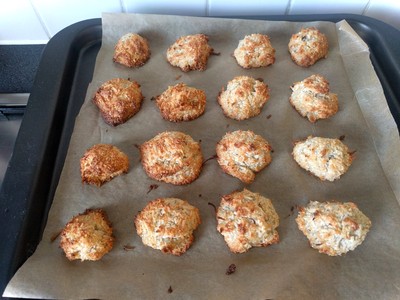 Coconut that such a trendy ingredient, it is part of the super healthy ingredient that we need to add everywhere if we want to be healthy. So, now you can easily found protein bar made from coconuts shred, coconut water…. I am not a huge fan of coconut and I am under the impression that even with the pressure of the healthy eating, I won't be part of the coconut fan club. But there is a recipe that I like to make because it is quick, easy and usually it has a big success to your friends and family: coconuts rocks.
This recipe was one of the first one published on my website, since then the recipe has improved thanks to my auntie advice. The new added and magic ingredient is Banane. The recipe is even tastier and it is easier to make strong coconut rocks.
SERVE:

 

PREPARATION:

 10 minutes

COOK:

 15 minutes

DIFFICULTY:

 
What do you need?
1 banana
1 egg
100 g  sugar – in the sugar, you can use a part of vanilla sugar
100 g  coconut shred
How to do coconut rocks with a banana?
Mash the banana with the egg in a bowl
Add the sugar

My auntie gave me the tip to use the blender for having a smooth paste, I recommend it
In another bowl, put all the coconut shreds
In that last bowl, mix the coconut shreds with the paste of banana + egg + sugar
Then with a teaspoon or a small cookies scoop, make some rocks
Put each rock on an oven tray covered with a baking paper
Put them in the oven at 180°C for 15 minutes
More recipe to try and enjoy: