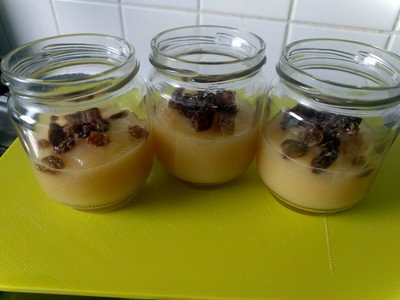 I would like to share with you another recipe of compote. As you might know, I am not a huge fan of eating fresh fruit even if I try as much as possible to eat one apple per day, apparently, that is an old recipe for avoiding being sick. But sometimes, I skipped some days and I finished the week with some apple leftover, so I like to do compote with them. This time, I decided to mix apple and pear and add at the end some sultanas on top. That was a great addition and this cooking recipe has now joined the "must have" booklet.
SERVE:

 

PREPARATION:

 10 minutes

COOK:

 20 minutes

DIFFICULTY:

 
What do you need?
2 apples
1 pear
50 ml of lemon juice
a couple of sultanas
How to do a compote with apple, pear and sultanas?
Peel the apples and pear and remove seeds and all the hard things
Put all the fruits in small pieces
In a pan, put together all the fruits pieces along with the lemon juice
Let simmer it for 20 minutes at medium heat

 I usually use the Companion from Moulinex for making the compote, if you have it, the setting is speed 3, 100°C for 20 minutes

 You can check if the fruits are enough cooked with a knife:  if the apple pieces are soft, all the other fruits are cooked
Put all the cooked fruits pieces in a mixer/blender and mix it until achieving a smooth texture

 If you have a plastic mixer, let the fruits getting cold before mixing them, in order to not damage the blender.

 If you use the Companion from Moulinex, mix the compote at speed 12 for 1 minute, then check that all the fruits pieces have been well mashed. If there are still some fruits pieces on the side, use a plastic spatula for putting them back in the bowl and mix again for a couple of seconds.
let's raise the sultanas in a bowl of hot water for a couple of minutes
Serve it warm or cold with soft sultanas on top of it
More recipe to try and enjoy: