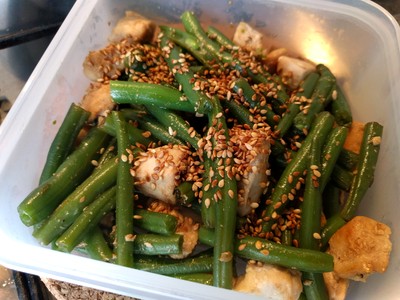 I like this recipe with some Asiatic twist that adds something special to the day to day life. I found this recipe in a book related to the good food for your gut (Prendre soin de son intestin en 140 recettes – Heloise Martel – FIRST editions) and I have been delighted by the taste and how quickly it can be done. It is made with some simple ingredient and can be done in no longer than 10 minutes which let you enough time to pamper yourself.
SERVES:

 

PREPARATION:

15 minutes

COOK:

10 minutes

DIFFICULTY:

 
What do you need?
2 chicken breast
300 g green beans
1 tablespoon of olive oil
4 tablespoon of soy sauce (no more because the sauce is already really salty)
Roasted sesame seeds
How to do Chicken with green beans and soy sauce?
Cut the chicken breast into square pieces
Heat a pan with the olive oil for 1 minute over medium heat
Add the chicken pieces and stir them for 10 minutes
In the meantime, steam the green beans for 10 minutes
Add the cooked green beans to the pan with the cooked chicken
Add the soy sauce and stir again for a couple of minutes
Serve and add some sesame seeds

If you don't have roasted sesame seeds: put some sesame seeds in a pan without oil and cook them at medium heat for a couple of minutes (the sesame seeds will turn brown after around 5 minutes which means that they are roasted and ready to be served)
More delicious recipe: