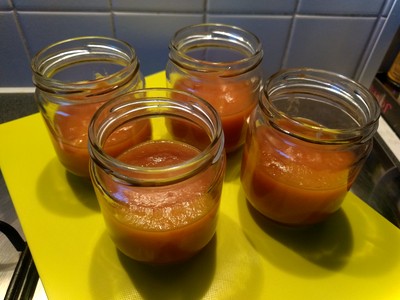 Eating raw fruits is not one of my favourite things, I prefer to eat fruits in a compote. I like the fact that it is all ready to eat and that the mix of fruits is nearly infinite; which leads to a good or bad surprise but it is always edible.
My last mix was apples with plum and some leftover of pineapple chunks (from the recipe: Roasted gammon with honey and mustard). The taste is really delicious, the pineapple adds a little of a sour flavour to the whole compote but not too much.
When I am doing compote, I like to eat some straight away when it is still warm then I prepare some yoghurt pot with the compote in it. I store them in the fridge for eating it as a dessert along with my lunch box or after dinner at home.
SERVE:

 

PREPARATION:

 15 minutes

COOK:

 20 minutes

DIFFICULTY:

 
What do you need?
3 to 4 apples
20 plum (I used common violet plum that I found in bulk at the market)
2 slices of pineapple
50 ml of lemon juice
How to make apple, plum and pineapple compote? 
Peel the apples and remove seeds and all the hard things
Try to peel as much as you can the plum and remove the stone

If you would like to have an extra smooth compote, I advise to try to peel as much as you can the plum or if you have not the time or the patience to do it, make sure that when you mix, you mix a little bit longer and stronger. Otherwise, you will have some chunk of prune's peel which is quite annoying.
Put all the fruits in small pieces
In a pan, put together all the fruits pieces along with the lemon juice
Let simmer it for 20 minutes at medium heat

I usually use the Companion from Moulinex for making the compote, if you have it, the setting is speed 3, 100°C for 20 minutes

You can check if the fruits are enough cooked with a knife:  if the apple pieces s are soft, all the other fruits are cooked
Put all the cooked fruits pieces in a mixer/blender and mix it until achieving a smooth texture

If you have a plastic mixer, let the fruits getting cold before mixing them, in order to not damage the blender.

If you use the Companion from Moulinex, mix the compote at speed 12 for 1 minute, then check that all the fruits pieces have been well mashed. If there are still some fruits pieces on the side, use a plastic spatula for putting them back in the bowl and mix again for a couple of seconds.
More recipe to try and enjoy: