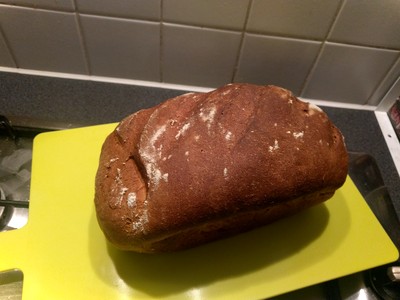 I like to do my own bread and not running every day to find some. Indeed, bread is a must have for my dinner meal and so I like to try different recipes. It took me a while to find the right recipe as I like to do fresh bread every 2 or 3 days (which means no more than 250g of flour) and I could be quite picky in terms of taste and crispiness.
This time, I did bread with Rye flour, flour which I brought back from France a couple of months ago. I didn't want to do a pure Rye bread as for me, it is a little bit to dry to eat, so I decided to mix plain flour and Rye flour for having more airy bread and it has been a great success. I like that bread with a soup and even more with a piece of dark chocolate 🙂
SERVE:

 

PREPARATION:

 less than 3 hours

COOK:

 20 minutes

DIFFICULTY:

 
What do you need?
130 ml water
20 g soft butter or margarine
20 g sugar
1 teaspoon of salt
75 g Rye flour
175 g plain flour
6 g dried yeast
How to make a Rye flour bread?
Put all the ingredient in the order in the bread maker
Use the program dough (mine is 15 minutes)
Let's rise the dough for 40 minutes in a warm environment (I usually put it in the cupboard where there is the hot water tank)
In your counter with some flour, make a ball of dough and remove all the bubble is there are some in the dough.
Give the dough the shape that you want your bread and put it in a tin
With the shaver blade, make some incisions on the top the bread
Let's the bread rises for 60 minutes + 20 minutes (time for heating the oven)

In the oven, put on the bottom a ramekin full of water (so when the oven will heat, some steam will be created which makes the bread crispier) and heat it for 20 minutes at 200°C
Add the bread in the preheated oven and cook it for 20 minutes
More bread recipe: