What's going on in Pauline-Cuisine ?
It is really enjoyable this warm weather! I rediscover the pleasure to do some long walk nearby the water canal in the East London. It is a really peaceful walk with a lot of animals to see. But after walking for one hour or two, it is time to eat something. So last weekend, after this sunny and warm walk, I decided to bake quickly some cookies. It has been a long time since I haven't took the time to make some.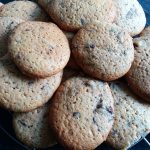 It takes only 15 minutes to bake and a quick 10 minutes to make and trust me the taste is far better than the one which can be found in the supermarket. I was used to make them when I was a student, so I really enjoy making them again. They didn't last long and the few cookies leftover were a nice addition such as dessert for my Monday lunch box.
Have a nice week and don't hesitate to comment the recipes shared.