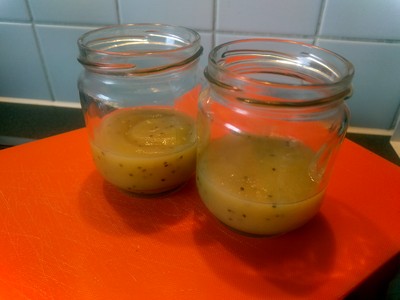 As I am not a huge fan of raw fruits but I am always motivated to buy them, it happens that the fruits don't look good for eating them, so I make compote.
Last time, I tried via an online supermarket to buy a box full of fruits. It was like a gift for me as you don't know what is inside the box before receiving it. When I got it, I discovered some kiwi and I don't know why but I don't like this fruit, so they stayed in the fridge… until I decided to add them in compote along with apple and pear.
The picture that I took, represents only half of the production. I only did a small batch because I wanted to try the taste before and be sure that I have the right balance.
SERVE:

 

PREPARATION:

 10 minutes

COOK:

 20 minutes

DIFFICULTY:

 
What do you need?
2 apples
2 kiwi
1 pear
50 ml of lemon juice
How to do a compote with apple, kiwi and pear?
Peel the apples and pear and remove seeds and all the hard things
Peel the kiwis
Put all the fruits in small pieces
In a pan, put together all the fruits pieces along with the lemon juice
Let simmer it for 20 minutes at medium heat

 I usually use the Companion from Moulinex for making the compote, if you have it, the setting is speed 3, 100°C for 20 minutes

 You can check if the fruits are enough cooked with a knife:  if the apple pieces s are soft, all the other fruits are cooked
Put all the cooked fruits pieces in a mixer/blender and mix it until achieving a smooth texture

 If you have a plastic mixer, let the fruits getting cold before mixing them, in order to not damage the blender.

 If you use the Companion from Moulinex, mix the compote at speed 12 for 1 minute, then check that all the fruits pieces have been well mashed. If there are still some fruits pieces on the side, use a plastic spatula for putting them back in the bowl and mix again for a couple of seconds.
More recipe to try and enjoy: