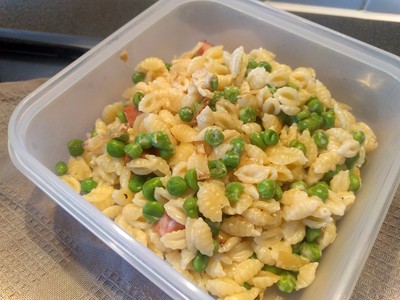 Sometimes, the time is flying so fast that making the time to schedule the weekly lunch and dinner is too time-consuming. Without scheduling, usually I am not doing grocery, so I am trying to be creative with the various leftover and the food that I am keeping in the freezer (I usually take the opportunity for emptying it before ordering more grocery). I was in this configuration last week and I am refusing to go outside for grabbing lunch, so I created something quick and delicious with what were in my cupboard, fridge and freezer.
SERVE:

 

PREPARATION:

 10 minutes

COOK:

 20 minutes

DIFFICULTY:

 
What do you need?
120 g of dried pasta (I like the shape of the mini orecchiette) for having 400 g of cooked pasta
100 g of frozen small peas
2 Knacki or sausages
½ onion
Grated cheddar or Emmental
Soja cream or fresh cream
How to do orecchiette with peas and sausages?
Put the dried pasta in boiling salty water for the indicated time on the packaging (usually it is for 10 minutes in medium heat)

 For avoiding the water to go out of the pan, put a wooden spoon on top of the pan. This little trick is working, I was so impressed.
While the pasta are cooking, peel and chop half an onion and stir fried it in a slightly oily pan at medium heat for 5 to 8 minutes
Heat the sausage in the microwave for 1 minute, slice them in small pieces and add them in the pan –
The microwave part is true for Knachi, if you are using sausages; slice it before and let's heat it longer in the pan along with the onion.
Continue to stir for a couple of minutes while using the microwave for defrosting the frozen small peas
Add the peas to the onion and slices of sausage
Add the pasta
Add pepper and a couple of tablespoon of soja cream
Serve it either straight away with grated cheese on top or put them in your lunch box for your lunch on the next day
More recipe to try and enjoy: