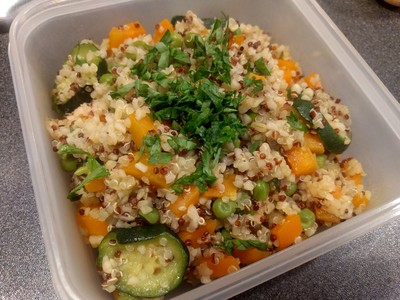 This week, I would like to share with you another recipe made with a mix of quinoa and bulgur. Indeed, I read some much nice things about quinoa, that I am trying to incorporate it as often as possible but quinoa alone is not what I prefer the most, I nearly hate, so it is why I am using it mix with other cereals.
I posted a couple of weeks ago another recipe based on this mix of quinoa and bulgur with some grapes and avocado. That is pretty surprising combination but really delicious.
I like the colour of the ingredients of the recipe and the fact to have various shape for carrots, courgette and garden peas is from my opinion, a really nice addition.
I hope you will enjoy this vegetarian recipe full vegetarian protein.
SERVE:

 

PREPARATION:

 30 minutes

COOK:

 30 minute

DIFFICULTY:

 
What do you need?
120g of quinoa and bulgur mix
½ onion or 1 onion
4 carrots
1 courgette
50/100 frozen g garden peas
1 litre of vegetable stock
1 tablespoon of Olive oil
Fresh aromatic herbs such as parsley or basilic (optional)
How to make Lunch box: quinoa and bulgur with carrots, courgette and garden peas?
Start by peeling half the onion and slice it
In pan or pressure cooker, put one tablespoon of olive oil and when it is hot, stir fry the onion for 5 minutes until it gets a bit caramelised

For this recipe, I like to use the pressure cooker and it helps to quickly cook the carrots, which could be challenging with a pan except if you want to keep the carrots crunchy
Peel the carrots and slice them in square bits
Add the carrots to the onion
Cover with some hot water the carrots and onion and simmer them for 10 minutes

Usually, I used boiling water for covering the carrots in order to speed up the process
In the meantime, cook the quinoa and bulgur mix with 1 litre of water with the vegetable stock for 12 minutes in another pan
Peel the courgette and either put it in square pieces and in slices

For the recipe, I was running of courgette, so I used frozen courgettes. There were in slice and I think it is a great to have various shape of vegetables on that recipe
As soon as the quinoa and bulgur mix is cooked, drain it and keep the water with the vegetable stock
Add  around 20 cl of the leafletover water with the vegetable stock to the carrots
Add garden peas and courgette and simmer it for 5 minutes
Add then the drained quinoa and bulgur and leave it on medium heat for 3 minutes while continue stirring
Serve it straight away with some fresh aromatic herbs on top or keep it for your lunch box
More recipe to try and enjoy: