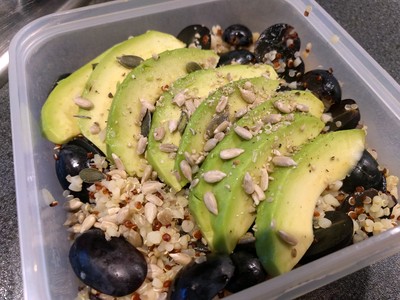 My kitchen is one of the most of the important place at home. I like to have a lot of accessories, always trying to find what is new, what is trendy… and trust me there are a lot of things going on when you are connected to social media…..
Always trying new things and sometimes I can end up with something really surprising. It is what's happened this other day when I was trying to mix some leftover. I decided to cook a mix of bulgur and white & red quinoa and to match it with fresh grapes and avocado. To make sure that this new salad is ticking all the boxes, I added on top of it some mixed seeds (mix of Tournesol seeds, pumpkin and pin). That was a nice discovery and the mix of sweet and salty was delicious. So if you are bored with your traditional salad, try this one, it will wake you up.
SERVE:

 

PREPARATION:

 20 minutes

COOK:

 10 minute

DIFFICULTY:

 
What do you need?
120g of mixed of red & white quinoa and bulgur
100 g of fresh black grapes
1 avocado
2 tablespoon of olive oil
Pepper
Salt
Mixed seeds: mix of sunflower seeds, pumpkin, and pine nuts (optional)
Aromatic herbs (optional) such as parsley or basil
How to make a Lunch box: sweet and savory salad with bulgur, quinoa, grapes, and avocado?
Start by cooking the mix of quinoa and bulgur, following the instructions were written on the packaging (usually you need to steam the cereals for 12 minutes)

You need to start by that step because it is taking time to cook quinoa and then you need to let cool down in order to avoid to cook the grapes

I am not a huge fan of quinoa but I really like this mix
Wash the fresh grapes and slice in 2 parts all grapes
Peel the avocado and slice it
Drain the mix quinoa and bulgur and let it cool down
Once the cereals are cold, mix them with the slices of grapes
Then, add on top slices of avocado
Add olive oil, salt, pepper and aromatic herbs
Finish by spreading the seeds on top of the salad
More recipe to try and enjoy: