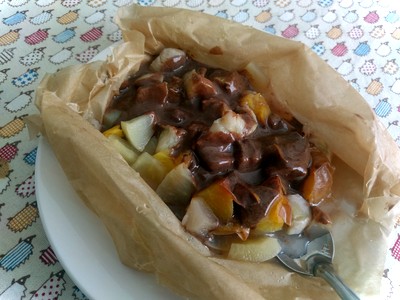 I like to eat steamed or oven cooked fruits which are good for a better digestion.
 Usually, when I have some guests home and that I made for them a quite heavy dinner, I like to serve a light dessert for finishing the meal. I am not a huge fan of fruit salad so I like to make some steamed fruits parcel with an indulgent part such as a quick chocolate sauce.
For summer, I made this recipe with apple, nectarine, and banana. The combination of fruits can be easily changed toward the season.
SERVE:

 

PREPARATION:

 5 minutes

COOK:

 20 minutes

DIFFICULTY:

 
What do you need?
 2 nectarines, I prefer the yellow one for adding colour to the dish
1 banana
2 apples
1 lemon
10 square pieces of dark chocolate/chocolate for dessert
Soya cream
How to make Steamed fruits parcel with chocolate sauce?
Peel the banana and cut into small pieces
Slices both apples and nectarine in small pieces

If you are using organic fruits, you can easily keep the skin of the fruits
Put a mix of all the pieces in 2 parcel of baking parchment paper
Add the juice of one lemon
Close the parcel of baking parchment

It is advised to close the parcel carefully to make sure that the steam does a proper job. I usually use staple for making sure that the parcel is well closed
Put both baking parchment parcel to cook in a steamer basket for 20 minutes
Remove them from the basket and keep them closed while preparing the chocolate sauce
In a small bowl, put all the chocolate square pieces with 3 drops of water
Put the bowl in the microwave for 1 minutes

The chocolate melt needs to be really hot but not burnt to make sure that it will melt properly with the cold soya cream without being too cold at the end
Then stir the chocolate melt with some of soya cream until having a really smooth chocolate sauce
Open the fruits parcel and add the chocolate sauce on top

Be careful when you open the parcel as the steam can burn
More recipe to try and enjoy: