What's going on in Pauline-Cuisine?
That is a new year and I am willing to discover new products and new recipes.
For Christmas, I went to France for visiting my family and my favourite thing when I am back to France is t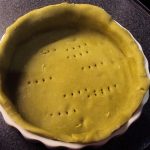 o go to big supermarkets in order to discover new products. Usually, I spend a lot of time in the sugar and flour area, always looking for new thing for my baking. This time, my eyes were attracted by some small box of flour. On the box, it is written vegetable flour. You can choose 3 different tastes: green vegetables, tomatoes or curry. I had a long hesitation between the green flour and the red one, I finally chose the green one because I thought that can be a great match with my leek tart or the courgette version.
Back to London, for my first lunch box, I gave a try to this flour. It is quite surprising when you open the box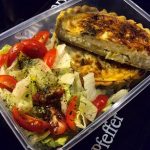 to see the green colour even if it is not too aggressive. I decided to bake the dough with my usual recipe, I love the fact to have self-raising flour and corn flour on it. My dough was definitely green and it was strange to put that in my tart mould. Then I add leeks, cheddar and fresh cream and bake it for 25 minutes. The dough was not as green as at the beginning of the cooking, so it was more appealing. The taste of the dough is not really strong; it is stronger if you eat the tart cold. I will definitely try my courgette version with this green flour.
I hope you will enjoy this new recipe that is really great for your lunch at work.
I wish you a relaxing weekend; see you next week with another delicious recipe.