What's going on in Pauline-Cuisine?
I have been lazy in the update these past few weeks. But I will share with you two recipes for this week: one for your weekend breakfast: brioche with chocolate pieces and the second one could be your dinner for tonight: soup with pumpkin and carrots.
As you are already aware, I like baking brioche for my breakfast on the weekend, when I have plenty of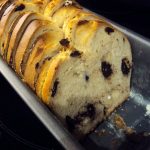 time for eating and relaxing. This weekend, I wanted to amend a little my usual recipe with pieces of chocolate. Indeed, I have cleaned my kitchen cupboard and I found some chocolate leftover from last Easter.  So I decided to bake a brioche with chocolate pieces, it was amazing. The brioche is not as airy as the traditional one, but it is a really nice treat to begin with for a relaxing weekend.
Unfortunately, we are already Monday and we need to think about lunch box and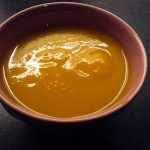 quick dinner. In the Winter time, I really enjoy eating soup for dinner, it is easy to make, to eat and that's warmed up. So this week, I will share with you a creamy soup with pumpkin and carrots. Indeed, I found a lovely pumpkin at the market,  that is really precious as usual we can't find it after Halloween. In order to test a nice taste, I decided to skip the potatoes piece in the soup, only carrots and pumpkin. That soup was really good. I hope you will enjoy making it.
I wish you a nice week.
See you next week with another delicious recipe.