What's cooking in Pauline-Cuisine?
Once again I am late but with the bank holiday that we had on Monday, I have enjoyed my free and sunny time. So this week I will share with you a pretty simple recipe. A really tasty one but be careful because it is a really caloric one… An American touch has arrived in my kitchen this weekend. I have done some pancakes for the Breakfast.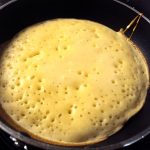 Indeed, I was so lazy (quite often at this moment) that I didn't bake bread or brioche, so when I woke up on Sunday morning, anything wasn't cooked for me and I have anything delicious to eat for breakfast. At this time, I remembered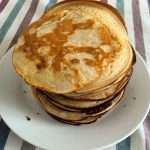 that I bought a pancake pan one month ago, not because I wanted to cook pancakes but because it is pretty red small pan. So on this Sunday morning I decided to give a try to my new pan with a recipe that I had for several years, it was my mother that found this excellent recipe in women's magazine.
These pancakes were really nice and I have enjoyed to see this big pile for breakfast. We didn't eat all of them, so I have some for my afternoon break. I have served them with maple syrup, so delicious.
See you next week with a typical recipe from the North of France.