What's cooking in Pauline's Cuisine?
This week, I would like to share with you one of my new favourite dessert. I am actually a very sweet teeth and I enjoy eating desserts. Unfortunately, sometimes I don't have enough time to elaborate them thankfully for my waist :).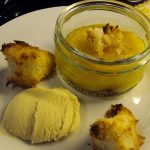 So, I took the decision to read my various cook books and magazines in order to try to find quick and healthy desserts to do after my working day. I am not easy to satisfy so usually I take a recipe on a book and I amend it when I do it. Sometimes it is a success such as my new exotic recipe: Multi-exotic dessert, and sometimes it is a disaster as this weekend with a pear ice cream with chocolate chips without ice-maker. Let's forget this disaster and focus on this tasty new recipe: Multi-exotic fruits.
It is a delicious mix of Mango, Pineapple and Passion fruits. But it is not a simply compote, I add some congolais in the bottom of the ramequin (it was an idea of the cookbook). The coconut flavour adds another tasty and delicious touch to this dessert. I served it two weeks ago to my guests, and they were glad to eat it with congolais and vanilla ice-cream on the side.  Try this recipe and don't hesitate to let a comment.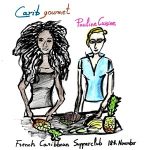 I realised this recipe for my business partner: Carib Gourmet. The one with I will cook the Sunday feast on the 18th of November. For this occasion, she created a nice cartoon of us. I let you enjoy this funny drawing.
If you are like me, you enjoy dessert and colourful dessert is like a bonus for your dinner, I encourage you to try my little exotic range of dessert recipes: Panna Cotta with Exotic Fruits, Mango and coconut dessert and Passion Fruits cheesecake….
I wish you a nice week. See you next week with another lunch box recipe. I suppose that will be the last one because it is a cold lunch box with prawns, and the weather will become cooler and cooler.