What's cooking in Pauline-Cuisine ?
10 months after the official birth of Pauline-Cuisine, I decided to renew it with a new design, themed categories and friendly navigation way. I let you discover all these new things such as a button that allows you to print the recipe, new sharing buttons…
Let's discover, enjoy and comment everything. Don't hesitate to contact me by email in order to give me your feedback about this new website and the different things that you would like to have for becoming an addict to my delicious and easy recipes website.
The main objective of this website is to share with you my easy French recipes, I know I missed it these last few weeks but I didn't forget you and I will give you 2 new recipes for this week:  Homemade Guava yoghurt and Fried Beef with chilies.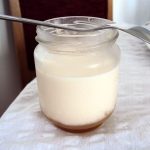 The Guava jam is another delicious discovery from Petite Douceur, a self employed girl that is specialized on creating jam with exotic fruits. After the Pineapple jam (here is the recipe of Homemade Pineapple Yoghurt), I have enjoyed this tasty, exotic and innovative jam. Petite Douceur Guava jam is really fabulous with homemade yoghurt… I will enjoy it until clearing the pot and order a new one of course 🙂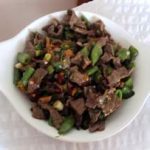 The second recipe: Fried Beef with red chilies is an outsider recipe on my website. But it is too difficult to live in London and didn't try to do some oversea recipes. I am a huge fan of this dish when I eat in a Chinese restaurant. The first time, I was really impressed by the way to serve this dish, still sizziling. So, I decided to recreate this delicious dish in my "Cuisine" and share with you my recipe. It is great, I let you try it and let post comments about it.
At the end, I would like to spotlight my News department, where I will post articles regarding my cookery discoveries. For my first article I chose to speak about a new bilingual magazine: Fricote; from Fricote magazine to making my homemade "Jaffa Cake". I let you discover it, and don't hesitate to share some ideas about it.
I wish you a nice week. See you new week with a delicious seasonal recipe: Stuffed Tomatoes.