What's going on in Pauline-Cuisine ?
Since I moved to this new flat, I am enjoying my new kitchen and I spent more time cooking rather than sharing my recipes. On top of that, I love receiving people and I challenge myself to be more creative for the aperitif offer. In fact, I usually describe myself as a sweet tooth, so I usually have a lot of ideas for dessert and I keep keeping the same set of aperitif such as smoked salmon verrine, smoked salmon canapé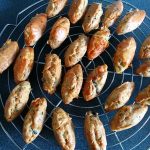 Last weekend, I decided to have a look at all the cooking books that I have and tried to create a new recipe with ingredients that I had on the fridge. I decided to go ahead with a savory cake: Roquefort, olives and cheddar. I know that usually my guest like savory cakes and they are great alternative to the usually crisps. On top of that, you can store easily the savory cake for 3 or 4 days in a plastic box.
In order to create a more aperitif version of this savory cake with Roquefort, olives and cheddar, I decided to use a mould that I received quite a while ago. I found it when I tidied up the drawer where I put all the moulds.
I let you try this new recipe: savory cake with Roquefort, cheddar and olives; which can be served as an aperitif or as a main course with a salad.
Have a nice week.