What's going on in Pauline-Cuisine?
I would like to focus my weekly note on baking. I love baking and I like eating bread; I try to do make bread as many as I can. A day without bread is not a good day :).
Every Friday, I bake a brioche in order to have it ready for a delicious Saturday breakfast. Last Friday, my usual mould for doing my brioche was used for my delicious bread (a test that I have done, I will explain it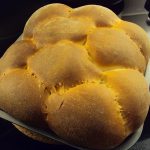 below), so I decided to use a square one. I was not convinced at the beginning because I thought I won't have enough dough for fill in. So I gave a try, and then put the dough in the mould in the cupboard where the hot water tank is. It is so convenient because the environment is really warm but not too much; I think this system exists only in UK. So, I put it for 1 hour, I was so impatient to see the result and it was worth to wait. After one hour, the dough has filled completely the mould. I was so impressed by the strength of the yeast…. So, I decided to share with you this really easy recipe and so delicious … Look at the picture, don't you want to eat it.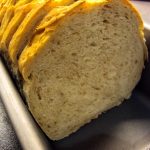 I have used my "brioche" mould for doing a bread experience. In fact, I was quite bored about my usual bread, so I have tried a new technique: bread on "poolish". I tried this new technique with my favourite flour: Kamut flour. A few months ago, I was disappointed because I couldn't find this flour and suddenly I found it at the supermarket. So I decided to give a try to this new technique with my newly found again flour. This new technique takes more time for making the bread because you need to let rest the poolish for one day before making the bread. But one more time, it is worth to wait because the bread is really airy. You should try it if you want to have really tasty and airy bread.
I wish you a nice week and I will share with you a new recipe next week.