What's going on in Pauline-Cuisine ?
The sun is still in and I enjoy it a lot so I don't have a lot time to write something for this page. But the most important is still online. This week, I will share with you a quick and easy chocolate recipe: Mi –cuit (or Half cooked/baked). That is a typical French dessert. I usually take it when I am not full when I go to the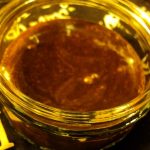 restaurant. Each time, that I eat it, I think that it won't be too difficult to make it but I didn't try until…. Last week. I wanted to eat chocolate but I have nothing good, so I looked for baking a cake, but I wanted to do a really quick one as I don't want to spend time in my kitchen. Indeed, I love cooking but I don't have window in my kitchen so it is not the most pleasant place to be in summer. So, I made this quick chocolate cake and it was delicious. It was such a revelation, that I decided to bake it again the next day but this time, I bring them to the office, and just re-heat them on the microwave for 60 seconds and it was so delicious. Not more than 60 seconds, if you exceed it, the cake will be completely baked.
I wish you a nice week.