What's cooking in Pauline-Cuisine?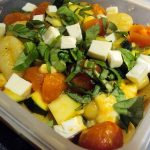 The sun is back and that is really great news. I am still really tired by our long winter but seeing the sun when I wake up is marvellous. So, I decided to put some colour on my dishes, still hot but really colourful and tasty.  This week I will share with you the recipe of Lunch box: Gnocchis with vegetables.
I have used some leftover in my fridge for creating this weekly recipe. In fact, I am so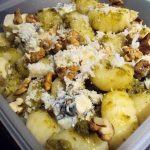 busy at the moment that I didn't take time to order my grocery and that is quite good because I just cook with all the leftover on the fridge, so no waste. Every time, I place an order, I order some gnocchis because it is a long conservation product and you can use it when you are in a rush. But this time, I wanted to spend a little bit more time in my kitchen and make a more complicated recipe with my gnocchis that my usual one: Gnocchis with cheese and pesto. I had cherry tomatoes and courgettes in my fridge because I went to the market on Thursday. In fact, I have discovered recently an amazing market near my place where they sell bowls of fruits and vegetable for £1, unbeatable :).
I decided to cook the courgette in square piece in a pan. I have peeled the cherry tomatoes in order to let them really melt with the gnocchis. Everything in a pan with some piece of mozzarella, then served with fresh basilic, really amazing taste and texture.
Take time to try this really nice recipe that you can eat straight away or for your next day lunch box.