What's cooking in Pauline-Cuisine?
This weekend is quite specific because it is Easter weekend, great for two things:  eating chocolate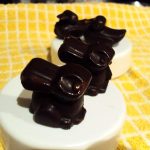 more than usual and 4 free days. This year, I have decided to do my own chocolate. I have already tried last year but my only memory regarding this cooking experience is long, too long. So this year, I decided to try it again, it was still long but the result was really great. Indeed, this year I have bought high quality dark chocolate from Callebaut and I bought a magic powder: Mycryo. I discovered this powder on "Cooking mumu" website. And I can confirm that is right the chocolate are shiny and beautiful. I am really glad of this chocolate experience and I will share with you the recipe which is quite inspired from L'Atelier Chocolat de Pâques (Larousse).
The second recipe that I would like to share with you it is an impressive starter for your Easter banquet: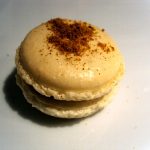 salted macaron with dried tomatoes. I decided to try macaron for the first time 2 years ago. The first time I was quite frightened because everybody said that is difficult. One more time that is not really difficult it is just long. I now manage to do sweety macarons (French Chocolate and Guava Macarons, Rasperry Macarons), I have decided to launch myself on the salty one. Moreover, I wanted to use my tomato chutney, that I have received in my surprise cooking box from Récréation Gourmande. I have opted for plain cream hull (the colour of almond). The experience was tasty and it was a success. Let's try it for your Easter starters.
Happy Easter and see you next week with a new lunch box recipe.