What's going on in Pauline-Cuisine ?
The last few days have been really hot, like the summer was here, unfortunately, when the weekend arrives, the sun has disappeared. Anyway, it has been a long time that I wanted to do my own ice cream, I was looking for an ice cream maker but the major problem is that I don't have any more space in my kitchen. I didn't see the point to have an ice cream maker and keeping it in his box. So I decided to ask my mum if she knows a recipe for doing ice cream without ice cream maker and she gave me an amazing recipe.
I couldn't imagine that it is so easy and quick to do ice cream. Moreover, with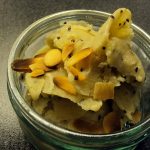 the homemade ice cream you can choose your very own flavor. As I bought some discounted kiwi at my local shop, I decided to give a try to a kiwi ice cream. Not easy to find it at the supermarket isn't it? This kiwi ice cream is perfect as a dessert served with grilled almond. That makes a great impression to all your guests. Give a try at this amazingly easy and tasty kiwi ice cream. Don't miss the opportunity to create some unexpected flavor for the summer.
Have a good week and see you next week with another delicious recipe.