What's going on in Pauline's Cuisine ?
With this changing weather is really hard to cook something that fits with our mood. The salad can be disappointed with a rainy weather and a hot dish really not appropriate when the sun shines. So this week, I wanted to find a recipe that can fit for every day. I decided to go ahead with a savory cake. It has been a while that I have not taken the time to cook one of them because my last trial was not a great success, it was too oily. This week I will share with you a new recipe of savory cake with chorizo, olives and dried tomatoes.
Last week, I went to my favorite grocery shop, a big one that is located in the centre of the new Business centre: Canary Wharf. This particular shop is the flag shop of the brand, so everything is perfect and you have a lot different counters for bread, meat, charcuterie, cheese… everything is done for "helping"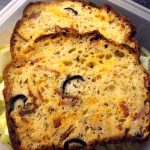 you to buy. As I was buying some charcuterie in order to prepare a cheese dinner, the chorizo was on sale. Usually I don't like chorizo but this time, due to the attractive windows, I decided to buy chorizo. Back home, I had a quick look at my various cooking magazine in order to find a way to cook it in a savory cake. I found a recipe with chorizo and olives. As I bought some dried tomatoes, I decided to amend largely the recipe and added dried tomatoes in the savory cake and in order to maximize the flavor I added dried tomato oil. The cake was delicious. The taste of the chorizo was not too strong and the cake was perfectly balanced at the oil level.
This recipe of savory cake with chorizo, olives and dried tomatoes is a "must have" for your aperitif and your lunch box. You can eat it warm or cold. Don't hesitate to give a trial this weekend. Still hesitating, need one more word for trying: the savory cake can be frozen easily and keeping all the flavor when you defrost it, is not it perfect?