What's cooking on in Pauline-Cuisine ?
I recently put myself in the fact to create dessert for lunch box. Indeed, I am a sweet tooth and sometimes after delicious lunch box, I would appreciate a dessert. I didn't want to have high sugar dessert or simple fruit salad; I wanted something in the middle, something with a nice touch on it. It took me quite a while before finding the right recipe that will tick all the boxes: roasted apples and pears with pecan nuts and flaked almond.
The two main goals of this dessert were: fruit based and healthy. As I have the habit to go to the market every Saturday, I am used to buy some apple but at the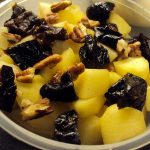 moment I quite fed up of the compote. So I decided to roast some apple and sweet pears in a pan with small pieces of butter. The smelling in the Kitchen was amazing :). After having roasting the apples and pears, I decided to add sliced pieces of soft prunes. I love this mix, but once again, I would like to add something, so I added pecan nuts and roasted flaked almond. The taste of the mix is great and the presentation of this dessert is amazing.
I hope you will find some time to try this dessert, easy to cook and so convenient as a dessert for lunch.
I wish you a nice week and see you next week with another delicious recipe.