What's cooking in Pauline-Cuisine?
This week I would like to share with you a great salad. I know that we are still in Winter but sometimes eating a great salad helps me to feel sunny. When I served this salad last week, all the guests have highly appreciated it, so I decided to share with you this Salad with cheese and vegetables. That is a perfect recipe for lunch box as well.
I cook lunch box on daily basis. Sometimes, I feel tired of my old recipe, so I spend a lot of time on my cooking books and magazines but sometimes the magic doesn't appeared :(. So last week, as I usually do one lunch box with salad, I had no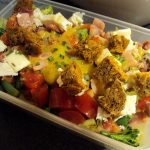 inspiration for my weekly salad. I looked in the fridge and I decided to let my imagination goes. I had some Chaource leftover, I really like this cheese but the problem is that he becomes old really quickly, so it is good to put it in a salad. In order to make a festive salad I decided to defrost some figs.  At the end, I made dried bread in the oven in order to make handmade croutons. The result was a smooth mix of sweet and sour flavour.
I let you try this tasty recipe and don't hesitate to add some comments.
Have a nice week and see you next week with another delicious recipe.