What's cooking on in Pauline-Cuisine?
I hope you had a nice Halloween party with scary pumpkin and delicious black and orange cakes.  Last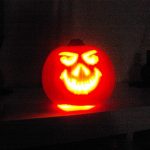 Saturday, I planned for the Halloween party to cook a creamy Halloween soup. However, my husband had an idea on his mind, and he stole the lovely pumpkin that I had bought for carving it. It was the first time that he did it and I was really impressed by the result.  On the middle of the party, the sharp of the pumpkin has changed because of the heat, but no worries, my husband had done to the pumpkin a "facial surgery" and the pumpkin was great all the party long.
Even if the Halloween pumpkin was nice, I had no more of it for cooking my soup. So I bought another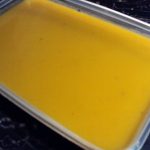 one and when I was in the grocery shop, I decided to buy a sweet potato as well. The taste association was really great and it was a nice amendment to my last pumpkin soup. So I share with you this pumpkin and sweet potato soup with you. It is really easy to do. The most difficult thing is to peel the pumpkin but after it, let's cook for 30 minutes and your soup is nearly ready, so delicious for a winter dinner.
I wish you a nice week and see you next week with another delicious recipe.