What 's cooking in Pauline-Cuisine ?
The cold days are settled and I will need to find and experiment new recipes for cooking hot dishes. But before sharing with you hot lunch boxes, I would like to give you my last summer recipe. Why, I am still in summer because I went on holidays most part of September. So this week, I will share with you a salad with fresh salmon for your lunch box.
I went to the fish market one week ago and I bought my favourite enormous piece of salmon. It is always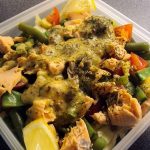 surprising to see how big a salmon can be and how fresh it is when it is bought from the market. On my way back, I was thinking about cooking it and I remind one of my day out when I went to the restaurant where I took a salmon salad, I was surprised that the salmon was fresh and not smoked as usual.  So I decided to cook a salad with fresh salmon. As the baby vegetables were discounted, I decided to add them on the salad. The result was really nice and colourful but the most important is that was really tasty. No question, I will cook it again, no matter if we are in winter… there are heaters at the office.
I hope you will enjoy cooking this salad with fresh salmon. And promise I won't let you down as I have done it in September.