What's cooking in Pauline –Cuisine?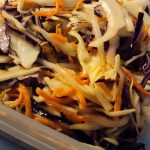 The sun is back and that is a great news because the salads are back too. This week, I have enjoyed cooking fresh lunch boxes and eat them in the office's terrace. Yes, I need to confess that I am really lucky to have this terrace which allows me to have sun bath during lunch time. Salads are perfect match with that. As I would like to celebrate sun, I wanted to create something new to eat. I had a quick review of some cook books, I picked up some idea of dishes and idea of sauces, then rushed to my kitchen in order to create my new lunch box: salad with 2 cabbages.
I am not a huge fan of cabbages but this mix of colors is so attractive. The crispy of the cabbage, fresh raped carrots and beansprot is so delicious. But the "must have" of this salad is the sauce.  I was fed of the basic vinaigrette but I was too tired to do a complicated sauce. So the fact to use lemon juice instead of vinegar was really great idea. The mix of mustard + lemon juice is so tasty that you don't need to add pepper or salt.
For sure, I will eat a lot cabbages salad as I like the texture and the mix of colors add a joyful touch to my lunch break.
I wish you a nice weekend.
See you next week with a quick and delicious chocolate dessert.