What's cooking in Pauline-Cuisine?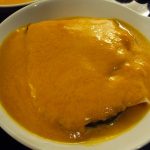 I am planning to pass some few days on the North of France next week, near the sea in order to have a nice relaxing break. As I am dreaming at it I decided to cook a really typical dish of this area: Welsh. One again, it is not a healthy recipe but with this awful weather I need to cook some comfort food. This recipe is really easy to cook and it is so delicious. I just recommend doing it on a small portion because it is really consistent. Moreover, I usually serve it with French fries. So try the recipe of Welsh during the weekend and go for a long walk after eating it 🙂
See you next week with another cheese recipe.