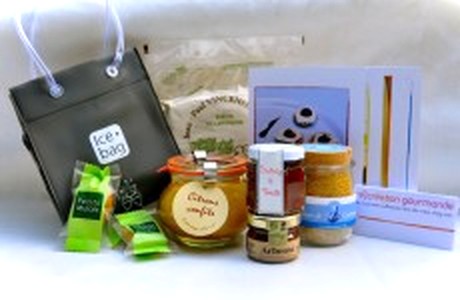 This time, I would like to share with you a nice product/service experience that I had. In October, when I went back to France for holiday, I ordered a Recreation Gourmande box. What is it? It is a surprise box which contains cooking products. The thing that I love in this concept is the fact that is a total surprise, you can't know before receiving the box which will be included.
What is contains in October box?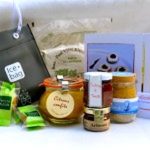 The Recreation Gourmande box was like a shoes box, and I couldn't wait to open it in order to discover what was inside. When you open it, the first thing that you can see is some little cards where you have 2 different recipes which include products in the box and another card which explains a strange product: curry salt. Then I began to discover what is inside, everything is packed in small protective case, so each surprise is still surprise until the time that you open the protective bag, so great 🙂 I am really crazy about this box.
In the October box, there are around 7 different products such as crystallized lemon, chestnuts flour, sweet biscuits…. And one accessory: a bag for keeping cold a bottle.
What have I cooked with the products box?
I am curious and I love cooking so I decided to try the two recipes included in the box.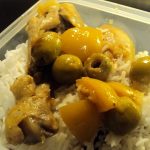 The first one was a tajine with the crystallized lemon. It was really tasty and I have enjoyed it on my lunch box. The smell in my kitchen was really good and it was like we travel in the north of Africa. It was my first experience with crystallized lemon and I was extremely well surprise by the taste. That is a little recipe that I keep in my cookbook.
The second try based on the recipes included was a chestnut cake with the chestnut flour. In the recipe they advise you to do it on a square dish but I wanted to do it in small portion, so I used a "barquette" mould. The only problem was the cooking, it was a pity but I let them a little bit burn. So the taste was not as good as predicted. Nevertheless, the one not burnt were a delicious treat.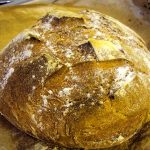 I have continued my edible experience with the chestnut flour, that smells so good. I decided to do a chestnuts bread and it was wonderful. I enjoyed the nut taste of the bread. It was delicious to eat for breakfast or with various cheese as a dessert. Try this recipe and add some comment.
Another culinary experience was the tomato chutney. The jar was really small but attractive. At the beginning I had no idea of how to use it. And the opportunity arrived a few weeks ago: Christmas. I was in my kitchen trying to innovate and I had the idea to do salted macarons and naturally I put the tomato chutney in the salty macaron.  The taste of the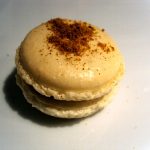 chustney was a little bit spicy but with the sweet of the macarons hulk it was delicious. In order to decorate them properly, I have added some chili-lemon powder on the top. That had a great success.
At the end I have used the Arbouse jam for doing some "barquette". I was dreaming to do my own "barquette" since a few month, so when my birthday arrived, my mum offered me the precisous mould and I have tried them straight away with the Arbouse jam. It was really tasty and I was feeling that I was a child again.
My impression regarding this cooking box
I have totally enjoyed the concept of Recreation Gourmande. I love cooking and I love "good" surprise, so this product is really perfect for me. It is really great to discover some new products and test them. The value-added of this box is that contains some biscuits so you can straight away test a delicious treat with your "present". It is just a pity that they don't have attractive price for shipping in England and I don't come back enough often in France for receiving them in France. But I was a great experience.