What's going on in Pauline-Cuisine?
First of all, I would like to wish you a great Happy Easter. The perfect time of the year for eating chocolate without thinking, I hope you find your chocolate eggs on the garden, I have already ate them 🙂
This week, I would like to share with you a new recipe: mushrooms pasta with pesto and walnuts that I created after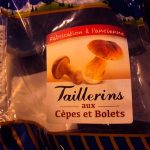 spending some holidays in the mountains. In fact, two weeks ago, I was on holiday with my family in a small ski station: Aussois near by the Italian border. The weather was really nice and it was quite relaxing to have a break over there where the time seems to have been stopped. As I am not a huge fan of ski and snow, I decided to have a look at the village and try to find mew cooking products. It was quick mission as the shops are not always open and are really small. I ended my walk on the small mini market near by the hotel and I finally found an attractive product: mushrooms pasta.
Back to London, I planned to give a try to this product. As I like to cook chestnut mushrooms, I decided to cook this pasta with tasteful kind of mushrooms. When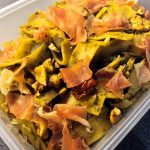 I was cooking the chestnut mushrooms, I was not really convinced about the recipe that I have imagined. So I looked around in my kitchen in order to find the magic ingredient which suits with my idea of the recipe: I decided to add pesto and walnuts. And on top of that, I added some small pieces of dried Italian ham. The smell in the kitchen was really great. The taste of the mushrooms pasta is not as strong as I imagine, it was quite discreet but the recipe is really delicious and easy to make.
I wish you a good week, see you next with another delicious recipe.