What's going on in Pauline-Cuisine ?
This week, I will share with you an easy and colourful recipe for lunch box: mix of wild rice with vegetables. I discovered a large variety of rice when I came to live in London. When I lived in France, I only know a lot of white rice but I didn't notice this kind of colourful rice: wild, Camargue, brown rice.
The first time that I bought a mix, it was just for trying but I was a little bit afraid about the cooking time, you need to plan at least 35 minutes. Fortunately, I escaped really quickly this "waste" of time by using my lazy option: using my rice cooker that it can do it in 35 minutes as well but without check. From this time, I took the habit to cook more and more of this kind of rices, I usually serve it as a main dish, whereas the white Basmati rice is usually use for accompanying a fish.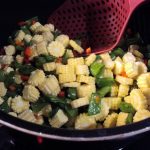 Last week, I went to my usual supermarket after work and I found an attractive selection of mini vegetables, it was a mix of small corn, mange-tout, broccoli and a small chilli. It was colourful and I thought that could be a nice addition to my mix of brown, wild and Camargue rice.
I sliced in small pieces mange-tout and mini corn and prepare the chilli. I used a pan in order to roast them. I have already tried to cook them with boiling water but the taste is not as strong as roasting them. I cook the broccoli really quickly, 5 minutes only in boiling water, if you let them too long in the boiling water, they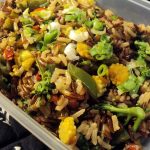 lost their crunchy. When all the mini vegetables are cooked, add the rice and mix all of them together.
You can serve this dish warm or cold, if you serve it cold, you could add some dressing on top. I like this recipe both cold and warm:  so easy to do, healthy, tasty and so colourful. Don't hesitate to try it and post some comments.
Have a nice weekend and see you next week with another tasty recipe.