What 's cooking in Pauline-Cuisine ?
I hope you have enjoyed your bank holiday. I took the opportunity of these three free days to clean up all the cupboards of my kitchen and I am now ready for a busy September. Today, I went to the street market in order to buy some vegetables and fruits, I am glad that every traders are back. I bought apples because in my mind, I wanted to do compote. As on Friday, I received my grocery order and I have ordered a large amount of strawberries and we don't have time to eat all of them. I decided to give a try to a new idea: strawberries and apples compote.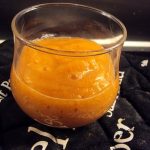 I was a little bit worried during the cooking because the smelling was really strong, the entire kitchen smelt hot strawberries. When all the fruits are cooked, again I was not convinced by the appearance but this time the smelling was great. I put all on the blender in order to have smooth compote.  The texture is really nice, it is a little bit like a mousse. The taste is really wonderful, and I wanted to share with you this new recipe with seasonal fruits. Quite easy to do, tasty and so healthy.
I wish you a nice week and see you next week for another great recipe.