What's cooking in Pauline-Cuisine ?
This week, I would like to share with you a new dessert recipe: a flamby, that is a kind of caramel jelly. It was a quite emblematic dessert, when I was younger and I remember really well the TV ad on it. The funny value-added of this dessert is the little sticker on the bottom of the pot, you need to remove in order to let the jelly to go on the plate and the caramel spread around the jelly.
Last week, I went to a second hand market and I found some jelly mould, so I decided to give them a try and a start my various recipes of flamby. The first try was a mess, as I have tried to do my homemade caramel. That was a huge mistake because when you put the fresh and really hot caramel on the bottom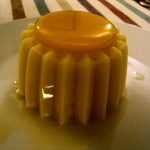 of the mould, the plastic has melted with the caramel. I was disappointed but I decided to give a second try with my spare moulds. This time, I decided to use Agave syrup instead of caramel as it is easier to find this syrup in UK. Moreover, I decided to use some agar-agar, that is vegetal gelifiant. The huge challenge with this kind of powder is to find the right balance between a jelly texture and something not really smooth. So, for my second try I have only included 1 g of Agar-Agar that was not sufficient for 650 ml of milk and the jelly stay liquid. At the end, my third try was great, so I decided to give you the right recipe to try. I hope you will enjoy eating this funny dessert, reminder of childhood.
I wish you a nice week and see you next week with other delicious recipes.