What's cooking in Pauline-Cuisine?
One more week lazy and tired, so I will share with you some really easy and quick recipe with an Asian touch. In fact, I was a little bit nostalgic of our dinner at the Japanese restaurant near where we lived in Paris, so I wanted to recreate the chicken skewers.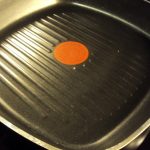 I was in the mood of skewers because two weeks ago (before being really sick) I bought a new pan. In fact, last time that I have tried to cook some skewers, I used my oven (because it was too cold for using the outside BBQ) and I was really disappointed by the result and I had a hard clean job to do after using all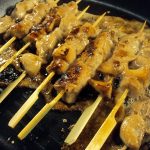 the stuff because everything has sticked. So last time, when I saw an online offer for a Tefal grill pan, I decided to buy it. That was a great purchase. I was at the beginning a little bit surprise by the square sharp of the pan but after the first use, I totally understood this sharp, that is perfect for cooking skewers.
I have really enjoyed this simple Asian recipe with soya sauce, honey and sesame. This new pan was a real advantage and the dinner was perfect. It was great for my next day lunch box as well.