What's cooking in Pauline-Cuisine ?
When I was on the underground this afternoon for going back home, I discovered that tomorrow is the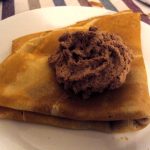 Pancake day, so nice :). A new occasion for cooking my favorite dessert: pancakes/crêpes, a new one because in France, we celebrate on February 2nd La Chadeleur where we cook crêpes. So I have decided to share with you different recipes of Crêpes: buckwheat pancakes, sweet pancakes and light crêpes. All versions are really tasty and take the opportunity of this day to test several recipes. In order to avoid the common, but really tasty and enjoyable, filling of chocolate or jam, try to do your own whipped cream. Which taste do you prefer: vanilla, mango or chocolate? It is time to go shopping for buying flour, eggs, sugar and milk and cook tasty pancakes, so delicious 🙂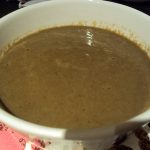 For the other days of the week and with the frozen weather, you can opt for a soup. This week, you can try the soup of mushrooms and chestnuts . My auntie gave me this recipe and I have tried it after Christmas when it was easy to find chestnuts. This soup is really delicious and innovative. After tasting various way of serving it, I recommend to serve it in "verrine" as a starter instead of a big bowl as I have pictured it.
I wish you a good week and a lot of edible experience. Don't hesitate to post comments on the recipes and help me to improve my cooking recipes.
See you next week with a tasty leek pie, so convenient for your lunch box.