What's cooking in Pauline-Cuisine ?
Nearly at Christmas, my head is full of ideas for cooking an unforgettable Christmas dinner for my three guests. I have already bought in France a Foie gras, and now I am looking for a nice way to present it, but one more time I have a lot of ideas and I can't decide which ways is the best… one more week to decide…. but can't wait for a magic Christmas 🙂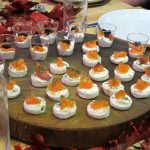 For this countdown to Christmas, I will share with you two nice starter with salmon. Salmon again, yes of course, since I go to the fresh fish market every month, I cook a lot of salmon. These two starters are easy and quick to prepare. There are beautiful in a table display.
The first starter is a simple smoked salmon canapé with soft cheese and drill or lump roe. The second starter is a verrine with salmon and the greek preparation Tzatziki, that is really fresh and the fact to add lump roe in it add a nice color touch. I really enjoy these two starters, try them and don't hesitate to leave a comment.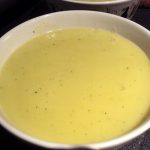 In another background, a daily recipe, because yes we are going to Christmas really quickly but we still need to eat on a daily basis, here it is a quick soup recipe: courgette soup, a nice green color with a tasty soft taste.
I wish you a happy Christmas, see you on the 30th for a new recipe of homemade yogurt.
Have a nice weeks.