What's cooking in Pauline-Cuisine?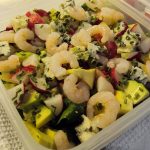 This week, I will share with you my last salad lunch box. Indeed the days become colder and colder and I caught the flu this weekend, so I am not in mood to create salad. This week, I give you the recipe for doing a colourful salad with prawns for your lunch box.
I created this lunch box because I was fed up of salad with chicken or bacon and I wanted to innovate a little bit with seafood. In fact, when I went to the fish wholesale market two weeks ago, I was really surprised by the good quality of the fish for such a small price. That encourages me to do more things with seafood.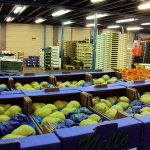 Talking about the wholesale market, I tried with a friend this weekend, the fruits and vegetables fruits market but I was really disappointed. First of all, it was quite far from the underground. Secondly, it was really dangerous to walk on this wholesale market because of the pallets trucks that they went everywhere really fast for transporting huge amount of fruits and vegetables in order to put them into trucks for supermarkets. I suppose, you have already guessed what is the third point, we can't buy under 4 or 5 kilograms of fruits or vegetables, so it is too big for us. And sometimes, the fruits are not really fresh so we need to use them quickly if we buy it.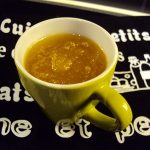 Finally, we have only bought cherry tomatoes and pineapples. With pineapples, I used one part for doing my multi exotic fruits dessert and with the other part, I tried to do my first jam but it is not a really success. The taste is really good but the texture is not what I want, so I will try it again before sharing with you the recipe.
This weekend, I have also organised a little diner and I have tried to do new things. I tried to do an exotic whipped cream. In fact, since I discovered the exotic fruits, I want to incorporate them in a lot of my traditional French recipes, in order to change a little bit the taste and add sun at the table. I will share with you this recipe of mango whipped cream this week (just let me time to take the picture and create the article).
I wish you a nice week and see you next week with an amazing recipe: French Chocolate Macarons with Guava filling.