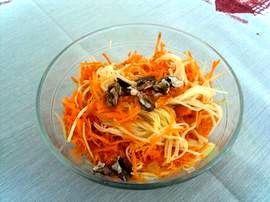 That is a really fresh salad. That changes of the traditional carrots salad and the taste of the courgette adds something new and tasty.

SERVES: 
PREPARATION: 15 minutes
COOK: 0 minute
DIFFICULTY: 

What do you need ?
For the salad part:

4 fresh carrots
1 fresh courgette
some walnuts
lemon zest

For seasoning:

1 tablespoon Olive oil
1/2 tablespoon balsamic vinegar
a pinch
salt
pepper

How to make salad with Carrots and Courgette?

Grate the carrots and the courgette
Mix them and add lemon zest
Add some walnuts
Add the seasoning: mix the olive oil, balsamic vinegar, salt, pepper
Put in the fridge for about 30 minutes before serving. The taste is actually better when the salad is really chilly!