What's cooking in Pauline-Cuisine?
I hope you are fine and you have enjoyed the recipes already online; I was quite busy these last weeks.  One more hard working week at work and then I will be not as busy as these few last weeks.
I didn't have put new recipes online but I have continuing to experiment new cooking thing in my kitchen. Just for a quick overview, I have tried a chocolate short-crust pastry that was amazing with strawberry, I will try with pears and I will probably share the recipe with you. Another good discovery was a quick lunch box with couscous semoula and carrots… and so many more delicious edible experiences.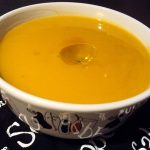 With the snow and the frozen weather, I would like to share with you a really nice soup with two potatoes: charlotte potatoes and sweet potatoes. I have tried this one the first time when I was in charge of cooking for the homeless (one of my charity activity) and it was a success. The key success is a right balance with the water and the milk at the end because if it is not right, you will eat a mash and you are not going to drink a creamy soup.
The second recipe that I would like to share with you is a lunch box. In these frozen weather time, it is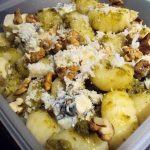 quite hard for me to keep awake all the day and it become more and more hard to wake up on the morning, so each evening I take the opportunity of commute across London for thinking about a delicious lunch box, something appealing that can help me to go to work. So it was during a underground journey that I had decided to do a gnocchis-pesto lunch box. The colours are nice, the gnocchis are good to eat and keep you awake all the day long. The value-added of this lunch box is that is really easy and quick to do (only take 5 minutes for cooking the gnocchis), that is really great when you go to bed really early on the evening and you have difficulty to wake up on the morning. I let you try it and don't hesitate to leave a comment on the post.
I wish you an happy weekend and a good week.
See you next week with a  new soup: mushrooms and chestnuts.