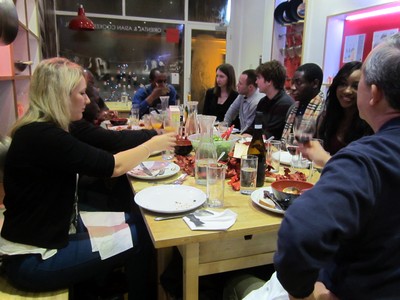 I cooked with Carib Gourmet a French Caribbean Sunday Feast at the School of Wok (London) on November 18th. This feast was a part of the Sunday Feasts organized by Edible Experiences. It was a great experience and it was a success.
However, I don't know yet if I want to continue in that way (cooking for people) because it is really hard to find people ready to pay for eating food cooked by passionate people who are not Chef.
French Caribbean Sunday Feast concept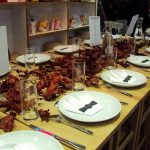 Carib Gourmet (my business partner) has decided to do a French Caribbean Sunday Feast. That was a great idea because it is right that she cooks Caribbean dishes and I cook real traditional French cuisine. In order to be on the theme, I amended a little bit my cuisine and add Caribbean twist in it.
The major Caribbean twist in my cooking part was the Tartiflette "à la mode" Creole. What is it? It is a re-designed Tartiflette with Christmas ham and some pinches of cinnamon. Sound strange for French person but it is not; this ham is really tasty and add something new and innovative to the traditional Tartiflette.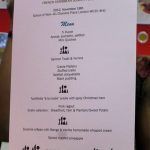 It was a friend that presents me for the first time this exotic thing: Christmas ham. It is a smoked gammon cooked with spices. The smoked taste is strong and tasty, that adds something delicious to the Tartiflette. I am glad to have tasted this ham and I hope you will one time have the opportunity to taste it as well.
The second twist of Caribbean islands was on the crepes. In fact I have filled my crepes with vanilla sugar and guava jam. I have added pinch of cinnamon on the top of each crepes.I served the exotic crepes with mango homemade whipped cream. It was delicious but our guests were really full when dessert arrived. It was a pity nevertheless, it was a real feast.
My dishes for the Sunday Feast
I decided to cook 3 dishes; starter, main course and dessert. I wanted to serve quality food, not in a huge quantity but well presented. It took me several months to find high quality food and nice disposable goods for presenting my dishes.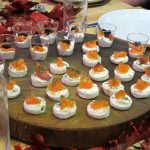 As a starter, I served 2 various canapé/verrines around salmon theme. In order to find a good quality salmon without paying a lot of money, I went with a friend to the wholesale fish market in London. I am lucky because it is quite near to my flat. But I still needed to wake up early to be there at 7.30 am. But it is a great experience and a trusty friend comes with me.  In this fish market you can find a lot of different fish, everything is extra fresh and affordable. So, for my Sunday Feat, I bought my smoked salmon and fish eggs on this place.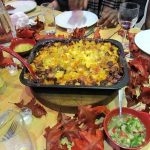 As a main course, I have served my re-design Tartiflette. I bought the Reblochon in France and let it getting older in order to have a creamy Reblochon for doing my Tartiflette à la mode créole.
Find here the recipe for doing a Tartiflette "à la mode" créole.
As a dessert, I have served surprise crepes filled with exotic jam. I have used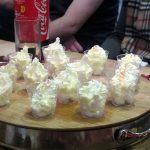 homemade guava jam created by a friend who own Petite Douceur. She develops exotic jam in her house and she tried different mix, I am really impressed by her jam.
With this exotic crêpes, I served homemade whipped cream with Vanilla and Mango aroma. The Mango one was a great success because it was innovative.
Find here the recipe for doing a homemade vanilla whipped cream
Find here the recipe for doing a homemade mango whipped cream
The Sunday Feast day
It was on Sunday, so I had plenty of time to finalize my grocery and prepare my cooking on Saturday. I began to cook my gift for the guests on Saturday; I have done some little goodies bag with Congolais.
On the Sunday, when I arrived at the School of Wok, everything was ready to be finalized. I was really pleased of my organization skills. All the preparation on Saturday and on the morning on Sunday allowed me to help my husband to serve the guests and getting there for having the feedback straight away regarding my dishes.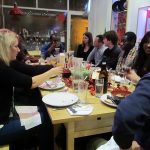 I was really proud to feed 14 people and I appreciated the ambiance.
That was a hard and challenging experience, but I was pleased to be part of it.
I would like to dedicate special thank you to my guests who gave me the chance to cook for them. A specific thank you for my supportive and trusty friend Samantha who has shared her passion for Christmas ham with me.  And a huge thanks to Vanessa (Carib Gourmet) who implies me in this experience.