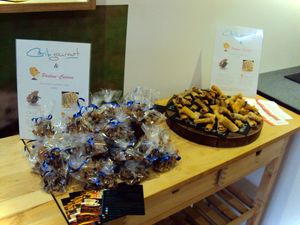 2 months ago, I received a phone call from my cooking partner: Carib Gourmet. She asked me if I wanted to participate to a Sunday Suppers event. At the beginning I didn't know what this kind of things is. I had already heard something similar in France but nothing in London. So, she explained me everything and I decided to give a try to this experience.
The concept of Sunday suppers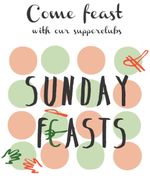 Wen Lin Soh created the website: Edible Experiences and she organises a lot of events regarding cooking. In June, she decided to organise the Sunday Feasts 2012 from September to November. These give the opportunity to cookers to cook for around 30 people one of Sundays between September to November. During this time, each Sunday you can join the Sunday Feasts and discover worldwide flavours. It is more than a restaurant because you can meet the cooker and you will taste amazing fresh food created by passionate people.
Launching the Sunday Feasts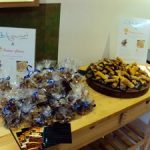 In order to promote the Sunday Feasts, Wen Lin Soh decided to organise an event like a press conference on the 28th of August. The concept was to invite press and blogger persons in order to promote the various type of cooking of the participants of the Sunday Feasts.
I participate to this Sunday Feasts with my business partner Carib Gourmet and we will cook a French-Caribbean feast on the 18th of November. So, in order to promote us on last Tuesday at the School of Wok (London), I cooked Surprise crêpes and she cooked sweet coconuts tablets.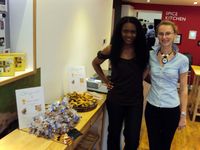 The value-added to my crêpes is the surprise thing because I filled them with various flavours: chocolate, vanilla, cinnamon, guava and pineapple. I presented my crêpe as a game, I asked to the guests to taste the crêpe and found the flavour. They enjoyed it and I was proud of myself.
Her coconuts tablets was a success too because it was more like a take-away treat. The guests tasted a piece of it and they brought home a little gift bag with it.
During, this press conference, I discovered amazing dishes and flavoures such as Tapioca pers with palm sugar syrup (from Innovative Baker), Polenta cakes with coconut (from Yummychooeats), Potatoes Cakes (from Fab Cooking), Lasagna (from The Backdoor Kitchen), Tasty black Spanish Tart (from Flavours of Spain)
Save the date: 18th of November for a amazing French-Caraibean feast
On the 18th of November, we will cook and serve our feat at the School of Wok (61 Chandos Place, WC2N 4HG) in London. That is a huge experience for myself and a nice opportunity for Pauline-Cuisine. We are working on our menu, that will be a 6 courses menu and we will mix French and Carib flavour in order to give a create unique tasting experience to our guests. Book a seat now !
Our tasty menu will be:
Apéritifs: Ti Punch and accras (pumpkin & saltfish fritters)
Starters:
Creole Platter:
* Stuffed crab
* Saltfish chiquetaille – Shredded saltfish salad
* Creole boudin
Salmon Toast on exotic salad
Mains:
* Pigeon-peas Creole consommé with Yam
* Tartiflette "à la mode" creole – Christmas ham potato gratin
* Papa's pork ragout
* Mama's gratin selection: chayote, yam and sweet potato
Desserts:
* Spicy roasted pineapple
* Surprise exotic crêpes
Surprise favour: Vanessa's favourite confectionery as a child!
Don't hesitate and Book a seat now.