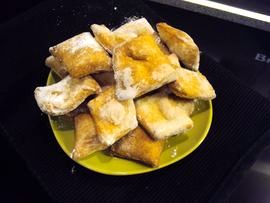 Sweet treat for Carnival time, it is so easy to do it.

SERVES: 
PREPARATION: 10 minutes + 1 hour for the dough
COOK: 4 minutes
DIFFICULTY: 

What do you need ?
For the pastry:

1 egg
125 g self-rising flour
15 g sugar
30g butter
1 tablespoon of vanilla extract
30 ml milk
a pinch of salt

For the donuts:

pinches of icing sugar for topping the donuts
sunflowers oil

How to do the donuts dough?

Mix together self-rising flour, sugar and salt
Cut thinly the butter and add it in the preparation


Tip:

Knead the pastry with your fingers
Add the vanilla extract, egg and the cold milk


Tip:

add the cold milk little by little
Knead again the pastry with your fingers
Wrap it in a plastic film and let it cool in a fridge for 1h or 30 minutes

How to do the donuts of Carnival?

Heat some sunflowers oil or heat a fryer
Spread the dough and cut it in squares
Prick the squares in the middle
Put the squares in the hot oil
Wait 3 – 4 minutes
Drain the donuts and put them on a kitchen paper
Then put them in bowl and add icing sugar on the top
Serve them hot or cold.